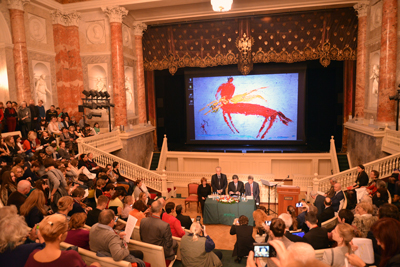 International conference Actual Problems of Theory and History of Art is an annual event organized by the art historians of the Institute of History of St. Petersburg State University and the Faculty of History of Lomonosov Moscow State University. Since 2010 it is held jointly and alternatively in St. Petersburg and Moscow. After the two major Russian universities were granted a special status, this joint conference has become one of the most important points in collaboration between the two leading schools of art history in our country.
Our official partners are Russia's greatest museums: The State Hermitage (since 2014) and Moscow Kremlin Museums (since 2015).
The conference is dedicated to the actual problems of theory and history of visual arts and architecture, as well as to the problems of interaction between Russian and other national artistic traditions. Among our participants are the leading specialists from Russian and foreign universities and museums. We also encourage younger art historians under 35 to take active part in the work of different sessions of our conference.
Every year we choose one of the major sections of the universal art history as the main topic of the conference for a more detailed discussion. We invite prominent specialists to give their talks at the plenary session which is a sort of master-class for the younger art historians. Different particular aspects of theory and history of art, both fundamental and practical are discussed at other sessions.
We highly appreciate the participation of speakers from countries other than Russia. Meeting international scholars gives us a great possibility to broaden our notion of the modern level of knowledge in different fields, learn about new findings and methods, make useful contacts. We believe that interaction and collaboration between the representatives of different traditions and trends of thought is indispensable for the further development of our discipline.